2 WAYS TO VIEW PIX:
the new thing about the galleries is: you have the OPTION to view pix of the bands with
thumbnails (SHOW PIX I) as seen in the picture on the left side - or,
you can view pix of bands in enlarged version as seen on the right side - means you click through all pix by using the 3 arrows, one after the other.. (SHOW PIX II).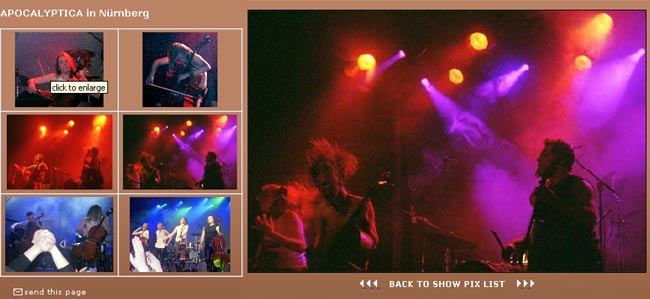 Please try out which way you like best - I could not decide...
Both SHOW PIX lists contain the same amount of bands and pictures.
OTHER FEATURES:
you can SORT the lists ascending and descending by band, event, city, location, country and date. just use the white arrows in the header as shown below

you can "SEND" every page, means the system creates an e-mail including the link to the page you are sending. You will find the SEND-link at the bottom of every page.

Check it out! Hope you have fun with it!